Get Enrolled, Get Verified, Get The Software and Get Going!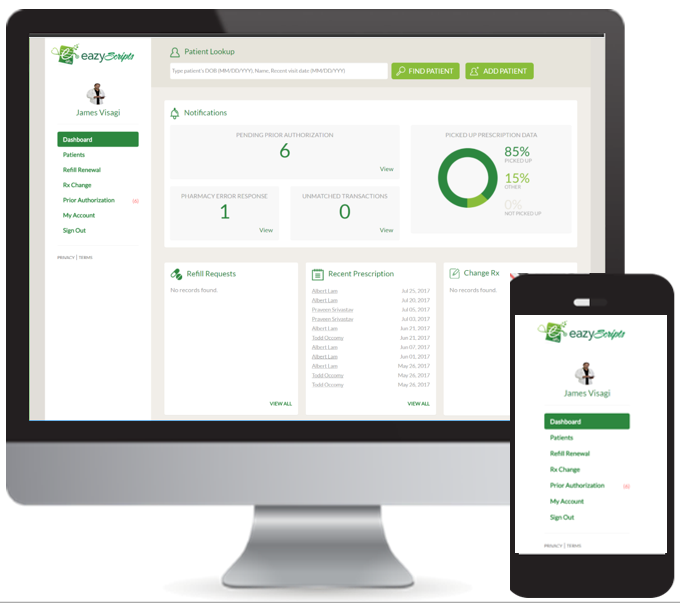 ePrescribing Features
Fast, customizable e-prescribing tool
Works seamlessly across any device
Electronic prior authorizations eliminate delays
Instantly access patient medication history
Formulary checks at point-of-care
Script transmission and fill verifications/alerts
Simple integration with any EHR
Solution is deployed in days, not months
Secure, cloud-based & HIPAA compliant
ePrescribing of Controlled Substances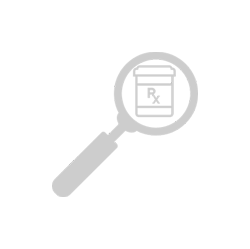 Prescription Drug
Management Program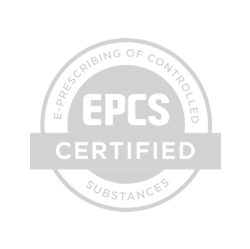 Surescripts Certified
EPCS Solution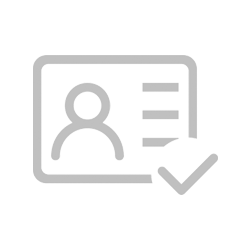 Two-way Authentication,
ID Proofing & Audit Trail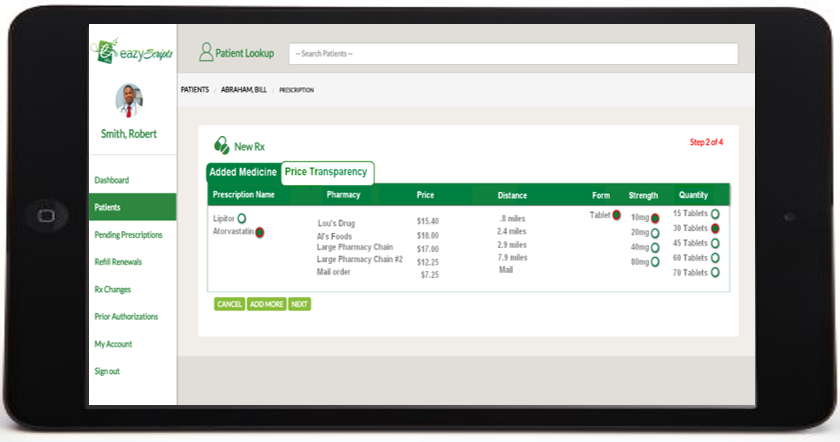 Price Transparency Features
Instantly share price data with patients at point of care
Compare prices from multiple sources
Patients can make informed decision to save money
Verify script transmissions and fills
ePrescribing Made Easy
eazyScripts makes it fast and easy to safely e-prescribe
all types of medications to patients at the best price.
Cost and Limitations.
Important information: This certified ePrescribing product, eazyScripts, is certified to prescribe (170.315b.3) medications and controlled substances and send to pharmacies for patients. This product will require one-time costs and ongoing costs to establish provider identity proofing and implementation of the product. The one-time cost of implementation is billed during signing of the contract. Initially for identity proofing there is a one-time cost, per provider, at organizational level for an OTP taken for authentication purposes during ePrescribing of controlled substances. The ongoing cost for identity proofing occurs every 2 years, per provider, at a customer organizational level to revalidate providers' identities. For full details on eazyScripts limitations please click here.
This Health IT module(s) is 2015 Edition compliant and has been certified by an ONC-ACB in accordance with the applicable certification criteria adopted by the Secretary of the U.S. Department of Health and Human Services. This certification does not represent an endorsement by the U.S. Department of Health and Human Services. eazyScripts 3.0
Holds Certificate No: 15.04.04.2999.eazy.03.00.1.171231. Date Certified: 12/31/2017. Effective Date: 2015 Edition Modules Tested: 170.315 (a)(1, 4-8, 10); (b)(3); (d)(1-8); (g)(2-5). Clinical Quality Measures tested: None. Additional software used: Surescripts ePrescribing Version 10.6MU, First Data Bank version 20171026, Microsoft Excel.
"This is by far the best user interface we have used. We are able to find the information we need. 6 clicks to submit a script in under 15 seconds. Can't beat that!"

Trident Medical Associates