Get Enrolled, Get Verified, Get The Software and Get Going!
SureScripts 6.1 Script Standard Certification:
eazyScripts version 3.0.1 has successfully completed certification for New Script Standard version 6.1
eazyScripts is certified in the following message types: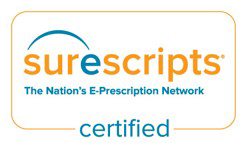 New Rx
Route new prescriptions to community pharmacies and mail-order pharmacies.
Rx Renewal
Route prescription renewal requests and responses between prescribers and pharmacies.
Rx Change 
Allow pharmacies to send messages electronically to a prescriber and request authorization to make a change to a prescription.
Cancel Rx
Cancel prescriptions that have been sent to community pharmacies.
Medication History – Ambulatory
With a patient's permission, prescribers can use Surescripts' Medication History service to securely access aggregated medication history data from community pharmacies, as well as patient medication claims history from payers and pharmacy benefit managers.
Real Time Patient Benefit and Formulary
Surescripts' Prescription Benefit service puts eligibility, benefits and formulary information at a prescriber's fingertips at the time of prescribing. This enables prescribers to select medications that are on formulary and are covered by the patient's drug benefit.
EPCS
Route prescriptions for controlled substances to pharmacies via SureScripts network.
Drummond 1311 Audit DEA EPCS Certification:
eazyScripts Completed Electronic Prescribing of Controlled Substances Certification with Drummond Group
Drummond Group has reviewed the eazyScripts application (eazyScripts Version 3.0.1) against 21 CFR 1311 federal rule using the Drummond Group Certification process submitted to and approved by DEA.
About Drummond Group Inc.: Drummond Group Inc. is a global software test and certification lab and third-party auditor that serves a wide range of vertical industries. In healthcare, Drummond Group tests and certifies Controlled Substance Ordering Systems (CSOS), Electronic Prescription of Controlled Substances (EPCS) software and processes, and Electronic Health Records (EHRs) – designating the trusted test lab as the only third-party certifier/auditor of all three initiatives designed to move the industry toward a digital future. Founded in 1999, and accredited for the Office of the National Coordinator HIT Certification Program as an Authorized Certification Body (ACB) and an Authorized Test Lab (ATL), Drummond Group continues to build upon its deep experience and expertise necessary to deliver reliable and cost-effective services. For more information, please visit http://www.drummondgroup.com or email DGI@drummondgroup.com.
     
ONC certification for Meaningful Use 2015:
eazyScripts successfully completed Drummond Group's ONC-ACB EHR – 2015 Edition
eazyScripts version 3.0.1 is 2015 Edition compliant and has been certified by an ONC-ACB on August 12, 2020, in accordance with the applicable certification criteria adopted by the Secretary of Health and Human Services. This certification does not represent an endorsement by the U.S. Department of Health and Human Services.
(a)(1) – Computerized Provider Order Entry  (CPOE) – Medications
User is able to record, change, and access medication orders.
(a)(5) – Demographics
A user can record a patient's sexual orientation and gender identity according to HL7 Version 3 and SNOMED CT® codes
(b)(3) – Electronic Prescribing
Electronic prescriptions can be sent to pharmacies via the SureScripts network by the provider.
(d)(2) – Auditable Events and Tamper-Resistance
Audit logs capture actions pertaining to electronic health information, and data cannot be overwritten or deleted.
(d)(4) – Amendments
A user can select a patient's record, and accept an amendment request or deny an amendment request.
(d)(6) – Emergency Access
Ability to grant access to an identified set of users during an emergency.
(d)(8) – Integrity
Demonstrate integrity protection controls for data received during an exchange
(g)(2) – Automated Measure Calculation
A user can create a report that includes the numerator, denominator, and resulting percentage for each applicable percentage-based Promoting Interoperability Programs measure supported.
(g)(4) – Quality Management System
Specific QMS used that was established by the Federal government or an SDO.
(a)(4) – Drug-Drug, Drug-Allergy Interaction Checks for CPOE
Drug to Drug and drug to allergy interactions are displayed when there is an interaction detected.
(a)(10) – Drug-Formulary and Preferred Drug List Checks
Automatically check for a drug formulary for a given patient and medication.
(d)(1) – Authentication, Access Control, Authorization
User is verified and permissions are established.
(d)(3) – Audit Report(s)
A user can create one or more audit reports for a specific time period that includes some or all of the data
(d)(5) – Automatic Access Time-out
The application will automatically stop a user's access to health information after inactivity for a predetermined period.
(d)(7) – End-User Device Encryption
Electronic health information is encrypted on end-user devices.
(d)(12) – Encrypt Authentication Credentials
Application is not designed to locally store authentication credentials; therefore there is no need for the Health IT Module to encrypt authentication credentials.
Multi-Factor Authentication is implemented in the application.
(g)(3) – Safety-Enhanced Design
Summative testing and report completed surrounding the user-centered design.
(g)(5) – Accessibility-Centered Design
Applied accessibility centered designed standard were identified.
e-Prescribing & mandates could be coming to your state soon.  Get ahead of the curve and enroll today.
"This is by far the best user interface we have used. We are able to find the information we need. 6 clicks to submit a script in under 15 seconds. Can't beat that!"

Trident Medical Associates